Couple keeping their eye on wildlife conservation
Alton:
By VICTORIA GUAY
vguay@citizen.com
DARYL CARLSON/CITIZEN
PHOTO Alton resident D.J.
Geribo in an artist, writer, and
children's book illustrator who
along with her husband have
founded "Eye Help Animals"
company that promotes wildlife
habitat conservation.
Thursday, August 20, 2009
D.J. Geribo, a local artist, has an eye not only for art but for animals as well.
She and her husband, James Fontaine, a web designer, have found a way to combine her two loves with his Internet savvy to start a business that donates 25 percent of all sales to wildlife preservation and habitat conservation organizations.
"I feel so fortunate that we have found our own passions and have been able to combine them to give back," Geribo said.
The for-profit business, Eye Help Animals (www.EyeHelpAnimals.com), sells prints, pins, hats, T-shirts and bags that have copies of original works of art painted by Geribo of animal eyes.
The idea for the venture began in 2007 when Geribo was in an art supply store and found some tiny 2-by-2 inch canvases and wondering what one could paint on such a small space.
She said she remarked "I can't paint much more than an eye."
And that's exactly what she did.
Since she and Fontaine are longtime animal lovers, she decided to paint animal eyes, with the tiger eye being first. After completing about eight paintings she decided to focus specifically on endangered animals and she and her husband decided to find a way to use the paintings to benefit endangered animals and their habitats.
Fontaine said they have always been contributors to wildlife organizations such as the World Wildlife Federation and others, but, by starting a business that donates part of its proceeds to such organizations, they figured they could do much more.
The website went live on Aug. 8 last year.
Earlier this year, Geribo and Fontaine were contacted by a member of the Loon Preservation Committee, based in Moultonborough, after that member had seen one of the animal-eye pins.
Geribo has painted a loon eye that appears on t-shirts, canvas bags and pins sold at the Loon Center gift shop and through the Eye Help Animals website.
All the proceeds of the products sold at the Loon Center gift shop go back to Loon Center because they bought the Eye-Help products at wholesale.
In addition, 25 percent of all loon eye products sold through the Eye Help website go to the Loon Preservation Committee.
Geribo and Fontaine said they are so pleased with the Loon Preservation Committee partnership that they are looking to form similar partnerships with other organizations, such as Save the Pandas.
Geribo is a mostly self-taught artist.
All through her adult life, Geribo said she had a creative streak and got into various arts and crafts, including sand terrariums and dried floral arrangements.
A former technical writer, Geribo was senior technical manager for Cabletron.
It was while she was working for Cabletron and living in Exeter that she decided to take a pen and ink drawing course at the University of New Hampshire.
She said she enjoyed drawing but soon found she wanted to do something more colorful.
"When you do pen and ink, it's just black and white and you can't make mistakes," Geribo said, explaining that it is hard to correct a mistake on a pen and ink drawing but easy to correct or paint over mistakes in an oil or acrylic painting.
Geribo and Fontaine bought their house in Alton nine years ago and it was soon after that she decided to concentrate on art full time.
She said she began reading up on art and started with water colors before moving on to pastels, oils and acrylics.
Geribo said she now prefers acrylics because it is a fast-drying medium.
In May, Geribo finished a goal she set for herself of painting at least one 5-by-7 inch canvas a day for six months, a project she began in December 2008.
"I wanted to improve my technique and develop a more painterly style," Geribo said, noting that when she first started painting she strove for photographic realism but has since developed a stylized technique, one she hopes with which people will easily be able to identify her work.
Geribo said she continues to favor painting landscapes and animals.
"My purpose in painting animals and nature is to show the beauty, the fragile condition of nature," Geribo writes in her artist's statement. "I see this as a challenge in my art and hope I can reach others through my art so that they, too, come to love and appreciate the beauty on Earth that is ours to cherish and protect."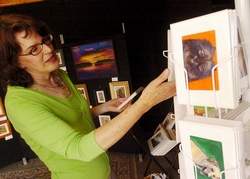 DARYL CARLSON/CITIZEN
PHOTO ALTON RESIDENT D.J.
Geribo is an artist, writer, and
children's book illustrator. She
and her husband have founded
Eye Help Animals, a company
that promotes wildlife habitat
conservation.