Monday, September 28th, 2009
Helping the giant panda
Alton
Monday, September 28, 2009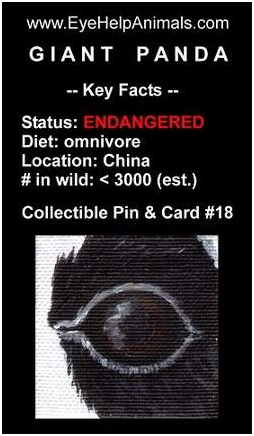 Courtesy Photo Pictured is the Giant Panda eye pin that Eye Help Animals is selling to help raise money to help save the panda program at Zoo Atlanta in Atlanta, GA.
Eye Help Animals, LLC, of Alton and Zoo Atlanta in Georgia have signed an agreement outlining a simple partnership to help fundraising efforts to support the giant panda program in Atlanta.
The giant panda of China is one of many species on the endangered species list and only a few thousand remain on the earth. As a way to help protect those in captivity and still in the wild, local animal activist couple D.J. Geribo and Jim Fontaine have combined their individual talents with their passion for saving wildlife to make the animal kingdom a better place.
Eye Help Animals was founded in 2008 by the couple to create a special way to promote and support wildlife conservation. Fontaine is an Internet architect and owns his own company, Positively Creative Solutions, while his wife, Geribo, is a professional artist who paints small portraits of wildlife and nature.
One day while driving, Fontaine was listening to a news segment on a Maine National Public Radio station and heard about Zoo Atlanta's "Give So They Stay" campaign which is an effort to keep the zoo's giant panda program in place.
"There are only four zoos in America that have pandas and Zoo Atlanta is one of them," said Fontaine. "When I heard the piece on the radio talking about Zoo Atlanta and how it needs to raise a half-million dollars by the end of the year to keep the program, I said there has to be some way we can help them."
After hearing about the campaign, Fontaine contacted Marcus Margerum, Zoo Atlanta's vice president of marketing and sales, to discuss how Eye Help Animals might be able to assist with the campaign.
"When I contacted Marcus, I asked him, 'What do we do to help raise money for the campaign?'" said Fontaine. "We told them that we would create a panda pin for them and commit to giving them 25 percent of the sales from the pins for the duration of their campaign."
Zoo Atlanta announced its "Give So They Stay" campaign on June 17 and must raise $500,000 by the end of the December.
China is the only place in the world where pandas can be found in the wild. Zoo Atlanta is one of only four zoos in the U.S. currently housing the critically endangered species, with fewer than 3,000 believed to remain in the wild.
Since their arrival in 1999, the two adult giant pandas, Lun Lun and Yang Yang, have given birth to two cubs, Mei Lan in 2006 and Xi Lan in 2008.
Zoo Atlanta's original, 10-year panda agreement is about to expire in December. It costs around $1.1 million per year.
"We don't like to see any animal in a cage or out of its natural habitat, but the reality is that, with an animal where there are so few left in the wild, they need to do the research about the animals," Fontaine said.
As a way to generate interest, Geribo and Fontaine have sent the staff at the zoo pins to wear when they are working. Zoo Atlanta will use the money they donate to protect the remaining giant pandas in the wild and to continue the zoo's collaborative research on understanding the mysterious species.
"What I found out through Zoo Atlanta was that they are doing a lot of research," said Geribo. "Everything they're doing is helping to preserve them so that they can live in the wild."
Without targeted conservation efforts, giant pandas are likely to vanish from China's bamboo forests.
"People don't realize how interconnected animals and humans are," said Geribo. "Some people say the animals are dying out because of natural selection, but it's happening too fast to too many species."
Eye Help Animals has around 32 pins featuring different animals' eyes.
Geribo and Fontaine also are active in multiple community organizations and have been longtime supporters of wildlife protection organizations such as the National Wildlife Federation, National Parks and Conservation Association, and the Nature Conservancy.
"We're trying to find ways to support what these organizations are doing because, as individuals, we don't have wherewithal to support each animal directly in the field, but there are organizations that do."
For more information about Eye Help Animals, visit the company's website, www.EyeHelpAnimals.com. Pins may be purchased online.
For more information about Zoo Atlanta, visit www.zooatlanta.org.